OnLink is the only platform that brings all major golf or sports turf operations data into one place for convenience, quick correlations, threshold alerts, and meaningful reports.  Please note the following upgrades that were recently implemented and released to all users.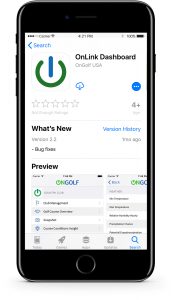 Onlink Mobile App
The OnLink mobile app offers the ability to make edits or monitor your information in the OnLink platform while on the course, on the road or at home. You can look in on your expenses and playing conditions in OnLink, build or edit job boards in OnLabor and keep tabs on your Fleet's performance and availability in OnEquip.
Download from the Apple Store for iOS users, or from Google Play for Android mobile users.
OnEquip
Sorting Maintenance Schedules by Column Headers: Any user can now sort through all of their facility's Maintenance Schedules by name of equipment, model, and grounds area for quicker location of specific records.
Filter Service History by Column Header: Any user can now sort through their Service history by piece of equipment, model, and area for quicker location of specific records.
Area Assignment with Correlation to OnLabor: Any user can now schedule particular pieces of equipment from the fleet to a particular job and operator.
OnLabor
Scheduler: With Scheduler, a user can now schedule staff's vacation days, sick days, late days, and more, plus have them unavailable for assignment on those days. A user can also monitor the number of times for each employee they have late or tardy and have that information readily available in a performance report.
Workboard Quick Search Functionality: Instead of scrolling through all jobs a facility has, a user may utilize the quick job search functionality to sort through jobs quicker.
User Equipment Eligibility Criteria: You can now track the training of your staff and be alerted if any employee is assigned to equipment they haven't been trained on yet.
OnLink
Pogo Data Display by Zone: Now you can see your salinity and moisture data sorted by the area tested instead of an overall course average
The OnLink team will continue to develop new features and functionality based on feedback from our users.  Please email suggestions for our product road map to Director of Training + Agronomy Service Randy Gatlin, randy@onlink.com.